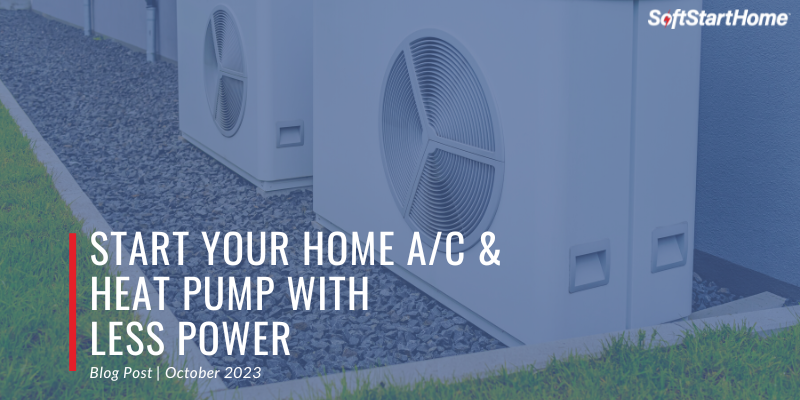 Start Home A/Cs & Heat Pumps with Less Power
SoftStart Home™ high-performance soft starter turns on central A/Cs and heat pumps with less power and less noise – and when paired with home solar energy system or a backup generator, helps A/Cs run while freeing up electrical power for other appliances
A home central air conditioner is the most energy-hungry appliance in a typical home. Depending on location and season, it can account for about 70% of a monthly electric bill.
With high or fluctuating electricity costs, aging power grid problems, and emergencies that require backup power, many homeowners are looking for ways to keep comfortable during normal AND special conditions. So it's natural that improving air conditioning efficiency can play a big role in that quest.
How SoftStartHome Uses Less Power, Saves on Costs Now and Later
When a central A/C or heat pump starts, it can require 7 to 8 times the amount of electricity used when it is normally running. The startup creates such an instant drain on the household power that lights can flicker and other appliances can be affected. 
The sudden inrush of power also jolts and superheats the A/C's own components which can lead to premature wear or breakdown. You know that is happening every time you hear the loud "thump" when an air conditioner starts up. 
The SoftStart Home™ high-performance soft starter from SoftStartUSA reduces the power to start a central air conditioner or heat pump by up to 70%. Designed for 6-ton/72,000 BTU units with 115-230VAC single-phase motors, SoftStart Home connects directly to an air conditioner or heat pump to help "throttle back" the startup power to only 2-3 times the standard A/C running power. 
As a result, SoftStart Home helps homeowners greatly reduce their overall household peak amperage, extend the life of heat-sensitive components, and enjoy quiet comfort all day and all night.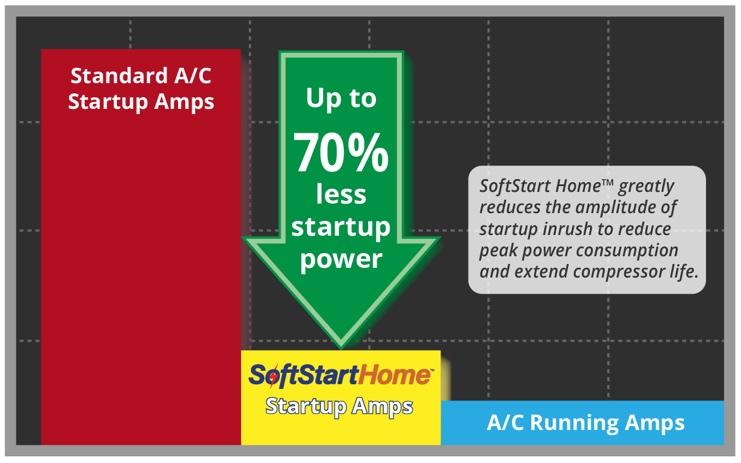 Achieve Cool, Continuous Comfort
Even in Low-Power Conditions
As more homeowners look for alternative sources of electric power – whether to ease their reliance on a power grid or to obtain essential backup power in emergencies – a SoftStart Home soft starter offers even more advantages in limited power applications.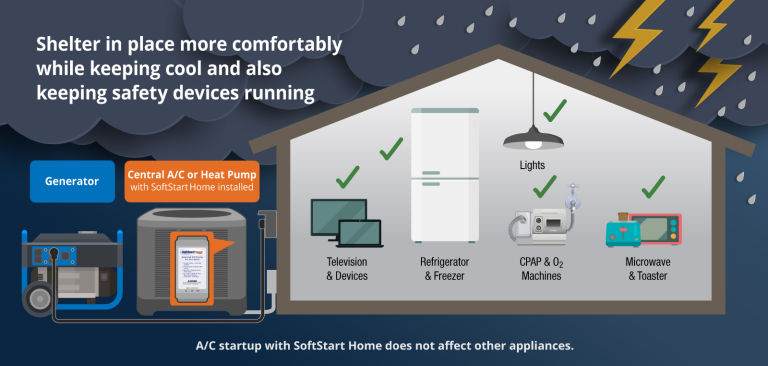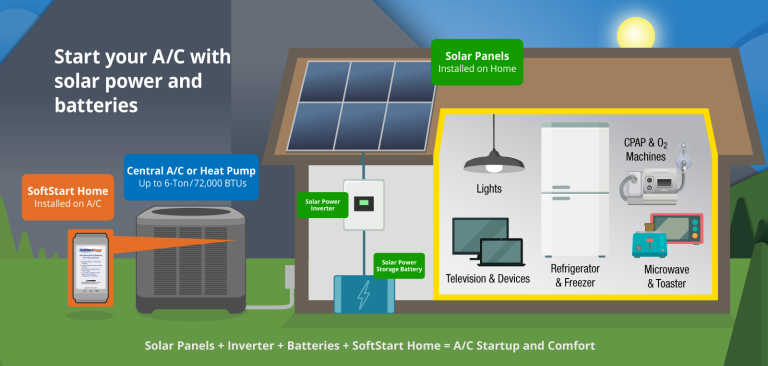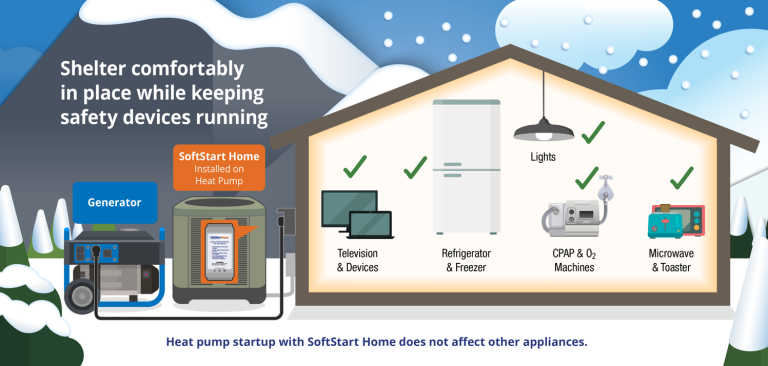 From sources such as 2200-watt and larger generators or solar-energized, a SoftStart Home soft starter allows you to run an A/C or heat pump more effectively by greatly limiting condenser startup power. Especially in emergency situations, this frees up power for other vital appliances such as refrigerators or medical devices – all while keeping the A/C or heat pump running.
And to ensure even more complete power efficiency, SoftStart Home devices can be connected to other inductive-reliant startup appliances, such as refrigerators, freezers and pumps – to help further reduce inrush power spikes that can shut down a limited-power source.
Because each SoftStart Home cuts the inrush current of all "hard-starting" appliances, the backup power won't trip off when these appliances start while others are operating. Water heaters, coffeemakers, lights, hair dryers and entertainment centers will keep running as long as the "running" power of all the appliances does not exceed the amount of power being produced.
World-Class Technical Service and Support
To make the installation process as easy as possible, SoftStartHome.com offers simplified installation schematics for many central air conditioners. The Customer Support section also lets customers register their product purchase which automatically extends the SoftStart Home warranty to two years.
To assure successful installation, the SoftStart Home support team offers several personalized options if extra help is needed. 
For example, if SoftStartHome.com doesn't have instructions for a specific air conditioner, a custom drawing will be made. All it takes is submitting a picture of the electrical diagram on the air conditioner and information about the A/C via a Support Ticket from the website. Once that is complete, a color diagram with step-by-step instructions will be sent to the customer.
If someone is still not comfortable with the installation process, then a complete "live" installation with a SoftStart Home technical expert can be scheduled through the Support Ticket process. Set up a date and time with the support team and one of their members will walk you through the installation, step-by-step, over the phone.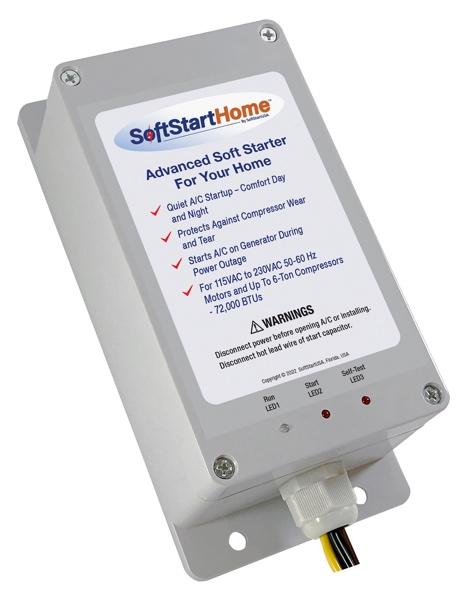 Learn More About SoftStart Home Startup Technology
To learn more about SoftStart Home products and how they can improve energy use and help keep homes comfortable in most any situation, please go to SoftStartHome.com. SoftStart Home™ is a product of SoftStartUSA, an industry leader in home and RV power management products.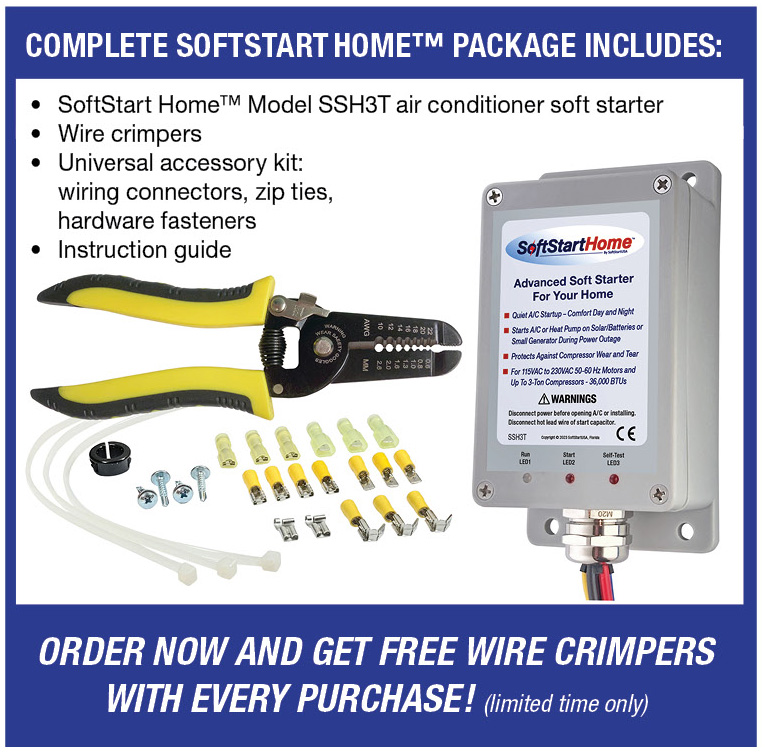 We Want To Earn Your Trust
Your trust in our SoftStartHome product is truly appreciated. We've learned the importance of referrals in our business, and we value your recommendation. If you know anyone in your residential network – family, friends, or neighbors – who needs expert advice or solutions for effective home cooling, please know that we're here to assist them.
We are committed to making homeowners more informed by providing comprehensive guidance, solutions, recommendations, videos, diagrams, and live technical support for rooftop installations. Our goal is to help them stay cool and comfortable in their residential homes.
Rest assured that your recommendation holds great weight, and we hope to continue earning your trust as you suggest our services to those in need of reliable cooling solutions. Thank you for your trust and support.
Click the button below for your preferred platform.
As a small business, we appreciate your feedback. Your testimonials really help us deliver the best products to you as we continue to grow. If you'd be so generous, consider leaving your testimonial on our public platforms to spread the word of SoftStartUSA! Thank you!
Connect with us on socials
Click the button below for your preferred platform.
We make it one of our top priorities to connect with YOU, our customers. Connecting with our customers over social media has enabled us to build relationships and connections with you. Your likes, comments, and reposts help us deliver the best products as we continue to grow. Thank you for supporting a small business!