SoftStartHome Installation Is Quick & Easy
SoftStart Home™ A/C Soft Starter is Quick and Easy to Install on Your Home Air Conditioner
Kent H.'s Hassle-Free Installation Experience
When Kent H. of North Texas decided to install a SoftStart Home soft starter on his Lennox central air conditioner, he did so knowing that the installation process would be a breeze.  His research showed that SoftStartUSA, maker of the SoftStart Home™ A/C soft starter, provides the most information possible on how to install their products. Not only that, but the 24/7 online support and "live" technician help further prove the company's dedication to making any installation as easy as possible.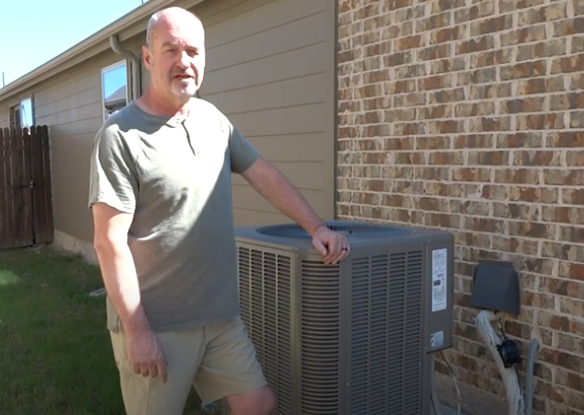 Easy To Access Installation Diagram
From the SoftStartHome.com Support pages, the installation diagram for the Lennox air conditioner was easy to find and print for reference. After previewing the diagram and using his experience gained from years of home maintenance projects, Kent pretty much knew what to expect. He began by shutting off power to the unit and removing the outer cover from the air conditioner's control area.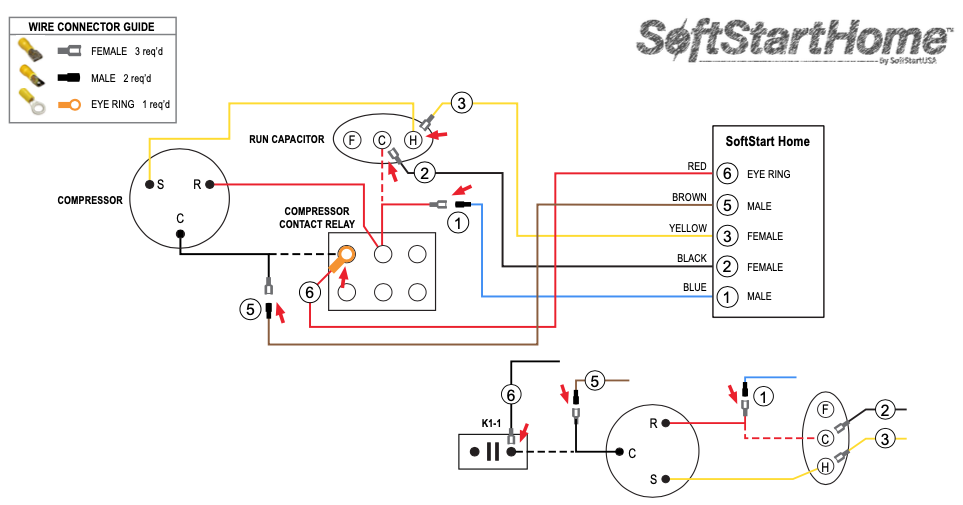 Wiring Made Easy With Step-By-Step Instructions
Kent determined where the SoftStart Home unit would fit in the control compartment, and after setting the soft starter on top of the A/C unit, he then followed the step-by-step instructions to make the proper wiring connections.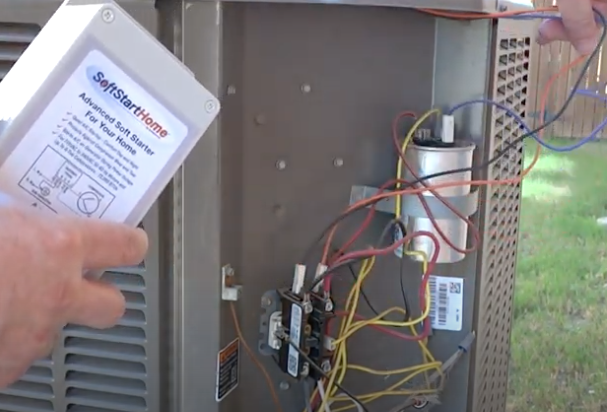 Reliable & Tidy Wiring with the SoftStart Home Installation Kit
Kent made the connections using standard wire crimpers, a screwdriver and black electrical tape. The SoftStart Home Installation Kit includes all connectors and wire ties needed to make secure, clean connections.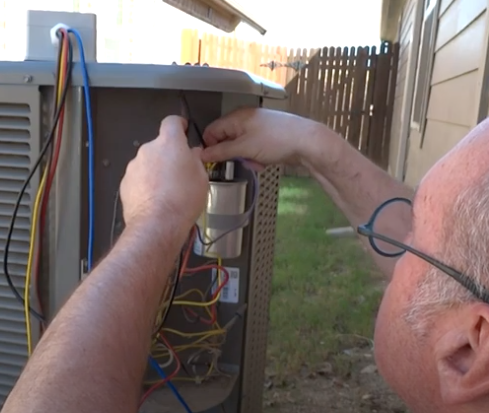 Green Light Indicates SoftStartHome is Working Properly
After completing the wiring connections, Kent turned power back on to the air conditioner and checked his installation. A green light on LED 1 let him know that the SoftStart Home soft starter was working correctly.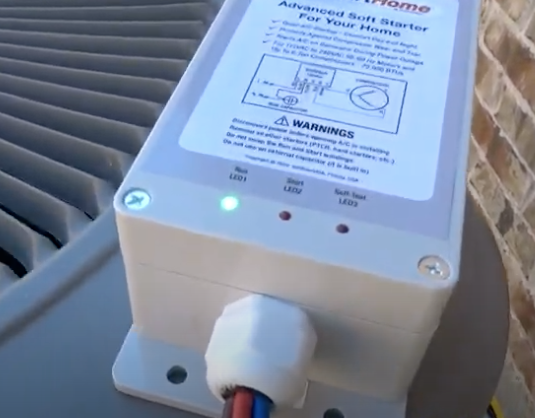 Secure SoftStartHome Unit & Complete Installation
He could then proceed to secure the unit inside the control area of the Lennox air conditioner with the supplied fasteners and/or the adhesive pad on the back of the soft starter.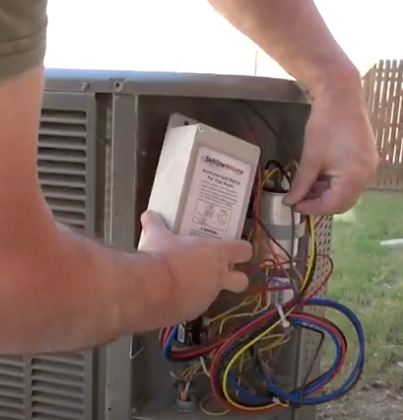 Kent estimated the installation time took about 15-20 minutes. 
To assure the SoftStart calibrates properly to the central air conditioner or heat pump, set the home's thermostat as close to ambient outside temperature as possible, and let it run for 30 minutes. After that, the air conditioning or heat pump can be run normally.
See the entire Youtube video below:
Watch This Residential SoftStartHome Installation
Learn More About SoftStart Home Startup Technology
To learn more about SoftStart Home products and how they can improve energy use and help keep homes comfortable in most any situation, please go to SoftStartHome.com. SoftStart Home™ is a product of SoftStartUSA, an industry leader in home and RV power management products.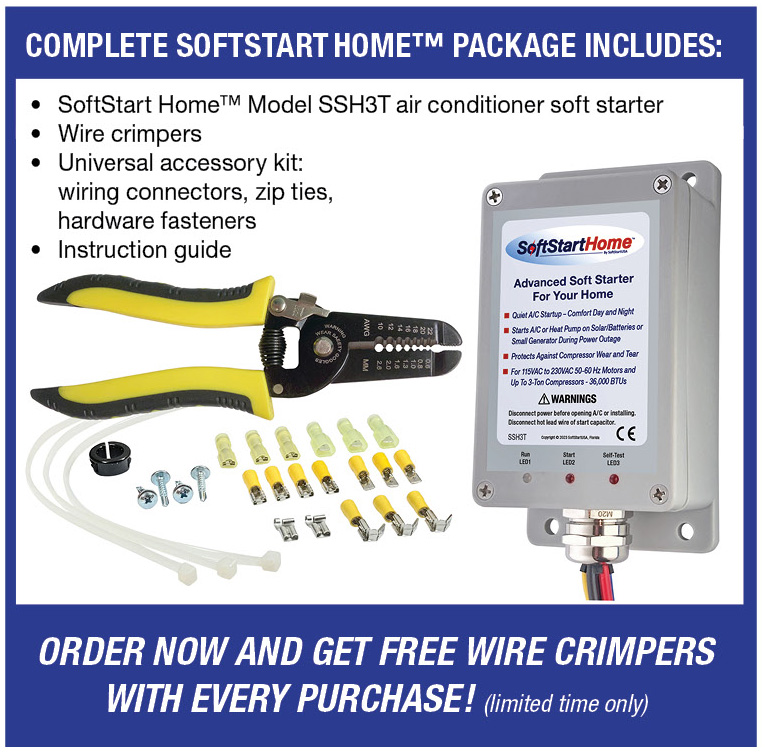 We Want To Earn Your Trust
Your trust in our SoftStartHome product is truly appreciated. We've learned the importance of referrals in our business, and we value your recommendation. If you know anyone in your residential network – family, friends, or neighbors – who needs expert advice or solutions for effective home cooling, please know that we're here to assist them.
We are committed to making homeowners more informed by providing comprehensive guidance, solutions, recommendations, videos, diagrams, and live technical support for rooftop installations. Our goal is to help them stay cool and comfortable in their residential homes.
Rest assured that your recommendation holds great weight, and we hope to continue earning your trust as you suggest our services to those in need of reliable cooling solutions. Thank you for your trust and support.
Click the button below for your preferred platform.
As a small business, we appreciate your feedback. Your testimonials really help us deliver the best products to you as we continue to grow. If you'd be so generous, consider leaving your testimonial on our public platforms to spread the word of SoftStartUSA! Thank you!
Connect with us on socials
Click the button below for your preferred platform.
We make it one of our top priorities to connect with YOU, our customers. Connecting with our customers over social media has enabled us to build relationships and connections with you. Your likes, comments, and reposts help us deliver the best products as we continue to grow. Thank you for supporting a small business!