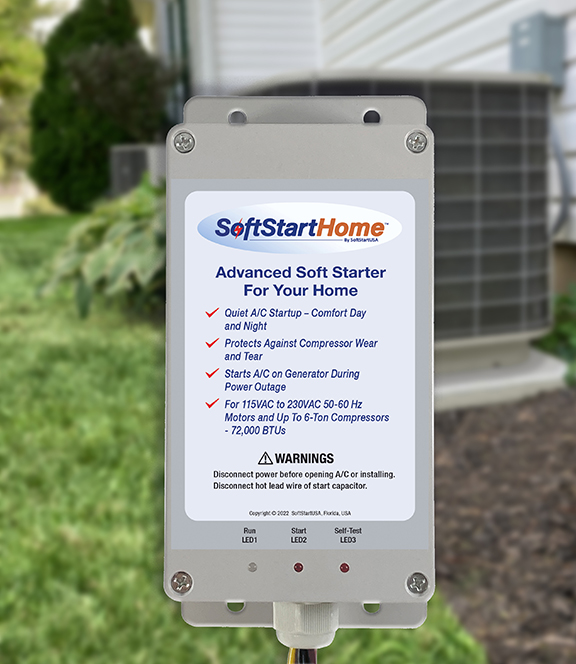 How Improving Your Home's A/C Startup Can Help Your Electric Power Grid
SoftStart Home™ high-performance soft starter turns on central A/Cs and heat pumps with less power and less noise – and when paired with home solar energy system or a backup generator, helps A/Cs run while freeing up electrical power for other appliances
Sitting outside your home is a central air conditioner or heat pump. The comfortable air it produces greatly affects the health and well-being of the people inside your home: that much is easy to see. 
But did you know that your A/C or heat pump – and millions more just like it – ALSO greatly affects the health and well-being of the regional electric utility grid that it's connected to?
How?
Depending on where you live, the HVAC system can account for about 45-50% of the total monthly electric bill. In regions that are especially hot or cold year-round, that percentage climbs to near 70%! So it's conceivable that meeting cooling and heating needs composes the majority of the work of America's electric power grids. And by virtue of that, it's also conceivable that anything homeowners can do to lower the electricity required for their HVAC systems will, in turn, lower the stress on a regional power provider.
By Cutting A/C Startup Power By Up To 70%, SoftStart Home™ Soft Starters Ease Power Grid Stress
In metered tests and homeowner installations, SoftStart Home soft starters have proven to cut A/C and heat pump startup power by up to 70%. For the homeowner, the most immediate result is a smoother startup without a sudden noise or shudder, no flickering household lights, and no sudden burst of excessive heat which can shorten the life of the A/C or heat pump.Because SoftStart Home reduces kilowatt-hour usage by the A/C or heat pump, it also helps keep overall peak consumption down so that other household appliances are not affected by startup. In regional areas where "peak demand charge" billing practices apply, it can help control these charges that are essentially higher electrical rates at certain parts of the day when demand is high across a region's utility grid.
If you take the startup energy savings of one home using a SoftStart Home device and multiply that across hundreds or thousands of homes on a regional utility grid, you can quickly picture the huge reduction in overall peak demand for the power grid. With today's aging power grids in combination with residential growth, anything that can be done to ease the demand on a grid and reduce load problems will work in favor of everyone that is connected to the grid. 
In addition, as the Department of Energy steps up efforts to educate the HVAC industry and the public regarding what is necessary, not just expected, to maximize power efficiency, energy-efficient solutions such as SoftStart Home products will become increasingly beneficial to millions of current A/C and heat pump users, as well as to their utility service providers.
Learn More About SoftStart Home Startup Technology
To learn more about SoftStart Home products and how they can improve energy use and help keep homes comfortable in most any situation, please go to SoftStartHome.com. SoftStart Home™ is a product of SoftStartUSA, an industry leader in home and RV power management products.
Ready to start living the life you want in your Airstream?​
Become a member of the SoftStartUSA family and order a SoftStartRV. We deliver on our promise to keep your Airstream or RV cool. With free tech support, free extended warranty, and 100% money back guarantee for 90 days, our special discount beats competitors and gives you the peace of mind to buy with confidence. 
Trust has to be earned and we want to earn it.
We appreciate the faith and trust you have placed in us in purchasing and using our SoftStartRV. More and more we've come to understand that we are a referral-based business. Hence, we appreciate and encourage anyone in your life right now such as a father, mother, son, daughter, uncle, cousin, neighbor, or fellow camper that has a need to be cool anywhere in their RV, and needs THE BEST expert opinion or soft start solution. We promise you we will give them our preferential service. And even if they choose to NOT buy our products, we will still try and help them solve their RV cooling issues.
Because you referred us, we are ready, willing, and passionately able to serve the people that are important to you. We want to help make smart campers smarter by giving them the most thorough, most meaningful, professional soft start advice. We will provide for them solutions, recommendations, videos, diagrams, plus LIVE rooftop tech call support. We will treat them in an incredibly special way on how to stay cool anywhere, anytime in their RV.
So please feel confident in your recommendation of us. Trust has to be earned, and we hope we have earned that in you to a degree you feel at ease in suggesting that special person, or special dog or cat who may need camper cooling in hot weather. We trust our help will be sought without reservations, thanks to your sincerest recommendations.
Click the button below for your preferred platform.
As a small business, we appreciate your feedback. Your testimonials really help us deliver the best products to you as we continue to grow. If you'd be so generous, consider leaving your testimonial on our public platforms to spread the word of SoftStartUSA! Thank you!
Connect with us on socials
Click the button below for your preferred platform.
We make it one of our top priorities to connect with YOU, our customers. Connecting with our customers over social media has enabled us to build relationships and connections with you. Your likes, comments, and reposts help us deliver the best products as we continue to grow. Thank you for supporting a small business!