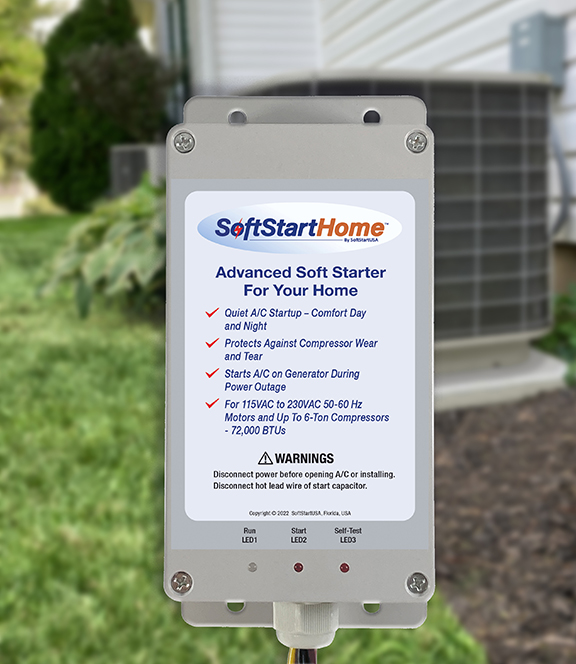 On Limited Electric Power, SoftStart Home Delivers Full A/C or Heat Pump Power
SoftStart Home™ high-performance soft starter turns on central A/Cs and heat pumps with less power and less noise – and when paired with home solar energy system or a backup generator, helps A/Cs run while freeing up electrical power for other appliances
When extreme weather hits and the power goes out, the last thing anyone needs is for a backup generator, a solar energy system, or other backup power source to quit unexpectedly.
Most times when a backup generator stops, it's because a vital appliance such as a central air conditioner or heat pump tries to start and trips the backup generator's circuit breaker. The HVAC startup power required more amps than the generator had available while running other electrical devices. 
To prevent unexpected backup power shutdowns due to high-demand A/C or heat pump startups, SoftStartUSA offers the SoftStart Home™ High-Performance Soft Starter. When connected to a central air conditioner or heat pump, the SoftStart Home device can cut the inrush current by up to 70%. This helps prevent a backup generator, a solar energy system or other limited power source from shutting down at A/C and heat pump startup.
How SoftStart Home™ Soft Starter Works
When a central air conditioner or heat pump starts, it can require 7 to 8 times the amount of electricity compared to when it is normally running. SoftStart Home connects directly to an air conditioning appliance to help "throttle back" the startup power to only 2-3 times the standard running power. By reducing the initial inrush by up to 70%, the A/C or heat pump startup does not impact the power draw enough to stall the overall backup system.
The SoftStart Home soft starter easily connects to most brands of central air conditioners and heat pumps. It is rated for 6-ton/72,000 BTU air conditioners with 115-230VAC single-phase motors, and so will work with most residential and business central A/C units.
Power Up More Appliances During Emergencies
From backup electrical power sources such as 2200-watt and larger generators or solar-powered, a SoftStart Home soft starter allows homeowners to run A/C and heat pumps more effectively by greatly limiting startup power. Especially in emergency situations, this frees up power for other vital appliances. Necessities such as refrigerator/freezers, sump pumps, medical equipment and other devices will continue running because of SoftStart Home's startup-managing ability. Water heaters, coffeemakers, lights, hair dryers and entertainment centers will keep running as long as the "running" power of all the appliances does not exceed the amount of electricity produced by the backup power source.
Learn More About SoftStart Home Startup Technology
To learn more about SoftStart Home products and how they can improve energy use and help keep homes comfortable in most any situation, please go to SoftStartHome.com. SoftStart Home™ is a product of SoftStartUSA, an industry leader in home and RV power management products.
Ready to start living the life you want in your Airstream?​
Become a member of the SoftStartUSA family and order a SoftStartRV. We deliver on our promise to keep your Airstream or RV cool. With free tech support, free extended warranty, and 100% money back guarantee for 90 days, our special discount beats competitors and gives you the peace of mind to buy with confidence. 
Trust has to be earned and we want to earn it.
We appreciate the faith and trust you have placed in us in purchasing and using our SoftStartRV. More and more we've come to understand that we are a referral-based business. Hence, we appreciate and encourage anyone in your life right now such as a father, mother, son, daughter, uncle, cousin, neighbor, or fellow camper that has a need to be cool anywhere in their RV, and needs THE BEST expert opinion or soft start solution. We promise you we will give them our preferential service. And even if they choose to NOT buy our products, we will still try and help them solve their RV cooling issues.
Because you referred us, we are ready, willing, and passionately able to serve the people that are important to you. We want to help make smart campers smarter by giving them the most thorough, most meaningful, professional soft start advice. We will provide for them solutions, recommendations, videos, diagrams, plus LIVE rooftop tech call support. We will treat them in an incredibly special way on how to stay cool anywhere, anytime in their RV.
So please feel confident in your recommendation of us. Trust has to be earned, and we hope we have earned that in you to a degree you feel at ease in suggesting that special person, or special dog or cat who may need camper cooling in hot weather. We trust our help will be sought without reservations, thanks to your sincerest recommendations.
Click the button below for your preferred platform.
As a small business, we appreciate your feedback. Your testimonials really help us deliver the best products to you as we continue to grow. If you'd be so generous, consider leaving your testimonial on our public platforms to spread the word of SoftStartUSA! Thank you!
Connect with us on socials
Click the button below for your preferred platform.
We make it one of our top priorities to connect with YOU, our customers. Connecting with our customers over social media has enabled us to build relationships and connections with you. Your likes, comments, and reposts help us deliver the best products as we continue to grow. Thank you for supporting a small business!